Don't think my lack of food posts means I haven't been heating it up in the kitchen! Quite the contrary, as a matter of fact. I think I've just been so excited to put the food on the table and eat that I haven't bothered taking any pictures. After all, my primary focus is on the nutrition of my family, not becoming the next great food blogger extrordinare with award-winning photos!
I have tried several new recipes as of late and I wanted to at least share my review and provide some links to some of these tasty treats. Here's a few of our favorites:
Thai Chicken Enchiladas
- I've been all about Thai flavors lately. Wes commented yesterday that it seems like he's buying coconut milk every week at the grocery. Prior to this recent spell, I could count on one hand the number of times I had bought it in the past. It's good stuff, people! If you haven't cooked with it you're missing out. Be sure to get the 'light' though or you'll be adding a lot of unnecessary calories. Anyway, these enchiladas are delicious and are great paired with a cucumber mango salad or something similar.
Chicken Tamale Pie
- This is a super quick weeknight meal. I opted to sub regular corn for the cream corn and added a couple extra tablespoons of almond milk in its place. I also omitted the green chiles because Colin is in the picking-his-food-apart phase and I try to limit the amount of
stuff
to be picked out. I think next time I would toss some black beans on the top with the chicken and cheese to add a little extra nutrition. As it was, I just served homemade refried black beans on the side.
Penne alla Vodka
- I have always wanted to try this but have never made it in my kitchen. As a matter of fact, I think I've only eaten it one other time and that was in NYC at some authentic Italian restaurant. I don't recall much from the meal other than feeling like I was eating a plate of cream and vodka - not all bad but not what I wanted on my stomach before sitting through a 2-hour play! I have steered clear of making it at home because of the heavy cream but when I discovered Tracey's recipe with far less cream than some recipes, I thought I'd give it a try. Plus, I had the cream leftover from a cake and I needed to use it up. This was super creamy, rich, and delicious. A little goes a long way but I easily could have consumed the entire pot myself!
photo courtesy of Tracey's Culinary Adventures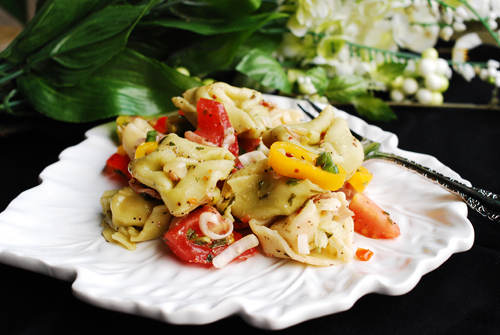 Balsamic Tortellini Salad
- This is a product of the Secret Recipe Club. Not only do I look forward to my assignment each month, I also look forward to seeing what everyone else selected and bookmarking those recipes that I want to try. This was one of those recipes! As soon as I saw how Suzanne had transformed this pasta salad into more of a Mediterranean style, I knew I had to try it. It was great! I love tortellini and I love it cold. I think I've mentioned before that I also love the mix of Mediterranean flavors with the artichoke hearts, tomatoes, and banana pepper rings. I omitted the
photo courtesy of Thru the Bugs on My Windshield
olives and also the prosciutto but we never missed
them. I think I could eat this salad every day for
lunch in the spring and summer. It's just so refreshing and filling.
Slow Cooker Thai Chicken Noodle Soup
- In case you didn't believe me earlier when I mentioned my newfound love of all things Thai, allow me to introduce example 2. I had to dust off my crockpot for this one (actually I think Wes might have made this) but it was worth it! I find myself coming back to the same descriptives when I try to describe Thai food, rich and full of flavor. This soup was no exception. If you are new to International cooking and flavors, this would be a good place to start. You can make it as spicy as you wish because you add the toppings at the end. Wes
photo courtesy of Mother Thyme
and I got the jalapenos but I obviously omitted those
for the kids (although, Colin probably would have eaten them without blinking an eye). You can easily omit any of the toppings but I'd advise you to not skip the fresh bean sprouts. I know a lot of you are thinking they're gross but have you tried them? They seemlessly disappear in this soup and are masked with the rice noodles. As you eat the soup, the bean sprouts provide a little crunch and you just feel like you're eating thicker noodles. Really! Even Colin ate them up without question. You can do it!
Stay tuned next week for my latest and greatest Vegan and Vegetarian finds. There are some
really
good ones!