I seem to be in a bit of rut when it comes to the old blog. I guess I just don't have a very exciting life, and thus nothing to blog about. What, with 2 children under 4, a full-time job, a house to keep (ha!), and all the other wife duties, I just don't have a lot of spare time. Somewhere in there I need to carve out a minute to do some exercising but unless I get up in the wee hours of the morning, I'm just not sure when that's going to happen. Enough about that. One thing I'll always carve out time for is cooking! I think I might have missed my calling in life. I guess it's never too late but that's a huge jump that I'm not willing to make right now.
On to the food, the good stuff.
Monte Cristo Sandwiches
- This was one of my favorite things growing up. There was a restaurant called the Bombay Bicycle Club that served them and that's what I always ordered. I was very picky, so the fact I was eating something other than grilled cheese thrilled my parents. This wasn't quite as good but then again, I'm pretty sure they deep-fried theirs which would clearly make it better. I made ours using a waffle iron and it worked pretty well. Colin enjoyed the "white stuff" that was sprinkled on top.
Cheesy Potato Soup in the Slow Cooker
- I served this alongside the Monte Cristos and it was hearty enough to be a meal on it's own. I was skeptical of the consistency after it had been in the crockpot all day but it was perfect. It was thick, yet creamy and tasted much more sinful than it actually was. I subbed mostly fat-free milk for the cream, with the exception of about 1/2 cup. I also skipped the cooking of the onions in bacon fat. I still added the onions but let the crockpot cook them instead.
Tandori Chicken and Spinach Salad
- Seriously delicious! I could eat just the chicken by itself but it's also a great addition to this flavor-packed salad. I didn't grill the chicken as directed, instead I poured the marinade and all in a skillet and cooked it that way. There was a little leftover marinade in the skillet and I just added that to the salad for flavor. I think it need a light dressing so I topped it with some white balsamic vinegar and a splash of olive oil. We'll definitely be having this one again.
Chicken Chow Mein
- One of my favorite kind of meals, simple and tasty. You could easily sub in different veggies to suit your tastes.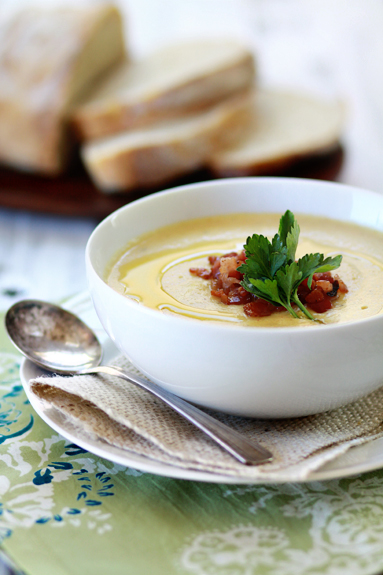 Creamy Roasted Garlic and Cauliflower Soup
- I was on a soup kick there for a couple of weeks. This one was another hearty one. I loved the roasted garlic and it paired really well with the cauliflower. I was able to cook a good portion of it the night before and then heat and serve the next night. Colin wouldn't eat it because he said it looked like grease. In his defense, it did end up being pretty much the same color as the bacon grease that I keep in the fridge. His loss, it was really tasty.
Tomato Basil Walnut Pasta
- What a great way to sneak things in. I ended up pureeing the sauce in the end because Wes doesn't like chunks of tomatoes and I knew Colin wouldn't eat the "green stuff" if he could see it. Well it ended up a brownish color and Colin yelled that he doesn't like meat in his pasta. I told him it wasn't meat! He ate some but not much because of the color. I see a trend here.
Jambalaya
- I've made this once before and I had a resounding 5 STARS next to the title. It is super easy and just as delicious. I brought some of the leftovers (because it makes a ton) to a coworker and he said that was in his Top 10 meals. I'm not sure I'd go that far but it is quite tasty. I served it with my new favorite
cornbread
and it was a complete meal.
Baby Black and White Cookies
(or black and tan if you want to celebrate St. Patty's Day) - We were introduced to Black and White Cookies several years ago when Fresh Market came to town. Theirs were delicious and tasted like they had been made fresh daily. Somewhere over the course of the last couple years, they changed their recipe or their source because they're not as good. They come frozen, already made, and the taste has suffered because of it. Well they are one of Wes' favorite cookies and occasionally I get a wild hair and decide to make them. They're easy enough but they are time consuming. This is a great recipe if you want to try your hand at them. I don't keep corn syrup on hand, so that's why the white icing isn't so white. I also may not have left them to rest long enough, thus the icing may have soaked into the cookie. Whatever, they were still tasty!
I think that's enough food for one day. Hopefully this will revive my inner-blogger and I'll be back to posting more regularly.