I promise my kitchen has been seeing a lot of me. Unfortunately, Old Man Winter covers up the precious sunshine well before I can get dinner on the table and thus, a photograph taken. I fear until spring comes, there will be more posts like this without my own images.
Pulled Pork
- used for both
enchiladas
and
bbq
, both of which were superb. The bbq got a little help from my friend, Montgomery Inn, but the pork was pretty darn tasty by itself. I just bought 1 pork shoulder and was able to get 2+ meals out it. Way to go me on the budget-friendly meals! I made up my own rub but I think the important part is allowing the flavors to soak in overnight. The enchilada sauce wasn't my favorite of all time but it was good enough. I actually think the next time I might just use the pork and make more like pork carnitas.
Mushroom and Bacon Frittata with Roasted Tomatoes
- We are lovers of all things breakfast and therefore, we know our breakfast! This is one of my all-time favorite dishes. Seriously, Wes said "this is
really
good" no fewer than 10 times while eating this. Even though it'd be easy to swap out ingredients, the way it's written is pretty darn near perfect. It's the perfect blend of flavors, all complimenting each other quite nicely. Sorry, it was so yummy I couldn't put my fork down long enough to snap a picture.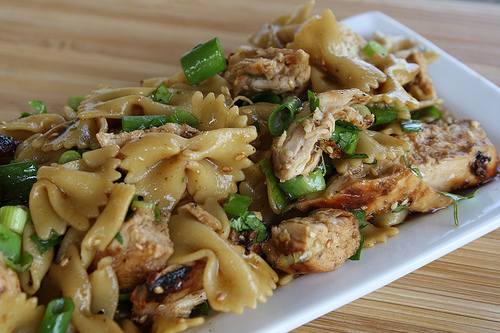 Sesame Salad
- Even though this seems like a good spring/summer dish, I was just in the mood for something lighter. This fit the bill perfectly. I will warn you the dressing makes A LOT. I had read a comment that the dressing was the star, and while it is, you don't have to go crazy like I did and attempt to use it all! I would halve it next time and add a few veggies, for a more complete meal. I served it over a bed of lettuce to attempt to get some greens in there.
Baked Potato Soup
- Quick & easy! You can set your oven to bake the potatoes while you're at work and then come home and finish this soup in about 15 minutes. If you do this, please make sure to pierce the potatoes a few times before placing them in the oven. My accidental science project proved that an unpierced baked potato explodes upon touch after being baked for an hour. Not so fun to clean up said science project. I only used 3 baking potatoes and that was more than enough for my liking. I opted to use No-Chicken Chicken Broth and about 1 1/2 cups of half and half. I forgot the cheese topping but really do you need it with that much cream? We didn't miss it at all.
Chicken and Artichokes in a White Wine Sauce
- I love Annie. I really could just end there but I'll give my narrative of the dish since I know you're dying for it. The slight coating on the chicken kicks it up a bit. The sauce, while delicious, had all but evaporated by the time I went to plate it. I would double up on the sauce because it was tasty. I served it over brown rice and I would have liked to have had some more sauce to jazz it up. Otherwise, yummy.
Mexican Taco Stew
- We love Mexican food but even I get tired of tortilla shells! There's a ton of ways to jazz up flour/corn tortillas but sometimes it's nice to venture away from the flour. This soup was warm and hearty on a frigid winter night. We enjoyed it with cornbread (so I didn't get too far from the flour - cornmeal!) but it wasn't worth repeating.