Will it be me? Stay tuned to find out!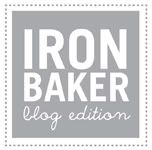 Think you're up for the challenge? You can join too! You have until next Monday to get your submissions in to
20 Going on 80
. I decided to really push myself and I've come up with an original recipe. I'm not sure that you have to, I just wanted it to be as close to the real Iron Chef Challenge as possible!
Stay tuned to see what I've cooked up. I'll give you a hint, it was inspired, in part, by one of the dishes in the Top Chef finale.